Chennai Super Kings senior batsman Ambati Rayudu announces retirement after IPL
Ambati Rayudu, the senior middle-order batsman of Chennai Super Kings, has announced his retirement from IPL earlier. According to Rayudu, IPL 2022 will be his last season in this league, but later he deleted his tweet. Ambati Rayudu tweeted that I am happy to announce that this will be my last IPL. I have played […]
Ambati Rayudu, the senior middle-order batsman of Chennai Super Kings, has announced his retirement from IPL earlier. According to Rayudu, IPL 2022 will be his last season in this league, but later he deleted his tweet.
Ambati Rayudu tweeted that I am happy to announce that this will be my last IPL. I have played in this league for 13 years and have been part of two great teams and have had a great time here. I would like to thank Mumbai Indians and Chennai Super Kings for this wonderful journey.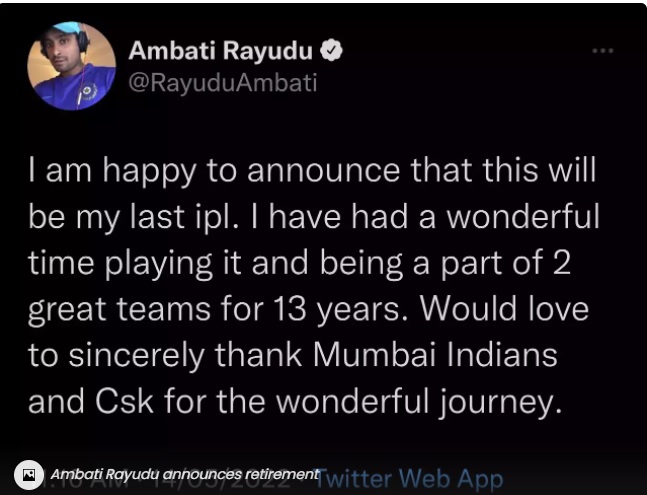 Ambati Rayudu started his career in IPL with Mumbai Indians in 2010 and played for this franchise till 2017. Then in the 2018 mega auction, he was included in his team by Chennai Super Kings for Rs 6.75 crore and since then he has been a part of this team continuously.
Talking about his performance in IPL, he has been a consistent performing batsman in this league. In this league so far, he has scored 4187 runs in a total of 187 matches. At the same time, Rayudu is the highest run-scorer for CSK in this season and has scored 271 runs in 12 matches. However, CSK are already out of the race for the playoffs. While playing for CSK, Ambati has scored a total of 1771 runs which includes 8 half-centuries and a century, while playing for Mumbai, he scored a total of 2416 runs which included 14 half-centuries. Rayudu has not been playing for the Indian team for some time now. He last played for Team India in the year 2019 against Australia.